Latest Events & News
Please join us at our second annual Friendraiser! We welcome the opportunity to catch up with alumnae and to celebrate MCA's 27th year of excellence in girls education.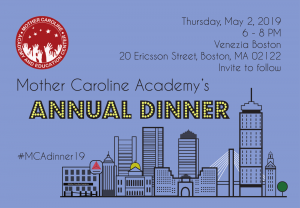 Please join us at the MCA Annual Dinner 2019 on Thursday, May 2, from 6-8pm at Venezia Boston. We are grateful to our honorary chairs Sue and Mike Hazard and we are looking forward to celebrating our year with all of you.
Help our 7th and 8th grade students who are competing to see how many $26 donations they can recruit in honor of our 26th year! You may get a phone call during our telethon on Feb. 6th. The winning grade gets a dress down day and a pizza party for…